3031 Quadra Street

Victoria, BC
V8T 4G2
Canada
Preschool
Ever since we opened in 2008, ArtsCalibre Academy has strived to provide children with all the skills necessary to excel throughout their educational careers, instilling in them a lifelong desire for learning.
We believe that creativity sparks a child's curiosity, enabling them to fully open themselves to every learning experience.  The Arts are the creative vehicle for this process.  Students enrolled in our Preschool program will build the skills needed to excel in Kindergarten, within a safe, respectful and enriching group learning environment.  Classes are kept to maximum of 20 children supported by 3 to 4 experienced teaching staff, resulting in an extraordinary student/teacher ratio.
Our programs run from September through June each year and closely follow the Greater Victoria School District's school year calendar, but with only two closures for Professional Development (Pro-D) days: November and February.
For a complete list of ArtsCalibre's Preschool learning objectives, click here.
Enrollment is generally limited to children of ages 3 and 4 at the start of the school year in September.  Children under the age of 3 by September must reach that age by December 31st in order to be considered for the 3 Year Olds Program.  The same rule applies for our 4 Year Olds Program.  We can on occasion make an exception to this rule, subject to approval by our Principal and Preschool Manager; please contact us for more information.
We suggest that families book a tour or attend an Open House before proceeding with registration, as our $75.00 annual registration fee is non-refundable.  Want to know more right now?  Check out our Virtual Preschool Tour at the bottom of this page.
For information on upcoming Open Houses, click here.
When you're ready to register, proceed to our Preschool Admissions page.
Schedules
Families may choose from 2 to 5 classes per week, subject to availability:
Two Class Option:    Tuesday/Thursday
Three Class Option: Monday/Wednesday/Friday
Four Class Option:   Add Tuesday or Thursday to the Three Class Option above
Five Class Option:    Monday through Friday
NOTE: Subject to availability, exceptions to the above weekday combinations may be made to accommodate families' unique work/child care schedules.  Please contact us to inquire.
We also offer Extended Hours, with early drop off in the morning and late pick up in the afternoon; see details below.
Rates
These rates are all-inclusive and represent the total cost of tuition — there are no taxes or any additional fees for supplies or regular in-class activities (beyond our annual $75.00 registration fee).

Extended Hours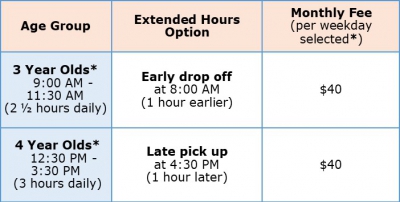 Virtual Tour
You'll find MUCH more information about our Preschool program in this 4 minute video:
…And for a closer look at our facilities, open our slide show with captions!  Click on the first image below to begin.